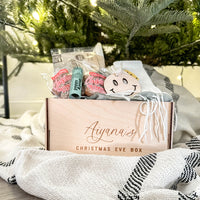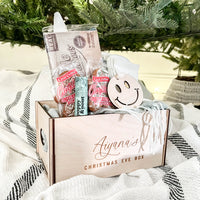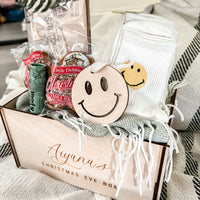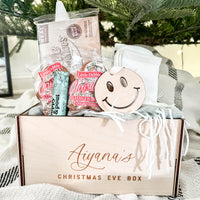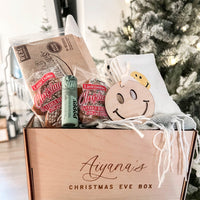 Description
The perfect treat for Christmas Eve to fill with goodies! Enter the names of your children, grandchildren or person receiving this gift!
Box is made of 1/8" birch wood and measures 9"x6" and is 4" deep. Not too big, not too small - just the perfect size for a few treats. 
Christmas Eve box will come in 5 pieces that just slide together to make the box. You can glue pieces together, but this is not necessary. Keeping the box unglued and taking a part each year enables it to lay flat and easily stored. 
Please fill out customization before adding to cart!
Shipping info
Shipping rates & delivery estimates.

Shipping charges for your order will be calculated and displayed at checkout if your order is over 50 pounds. If under 50 pounds, your shipping cost will only be $5.00 if you reside in the United States. International Shipping rates will be calculated during checkout.

Estimated delivery time.

Any items over 1 pound are shipped USPS Priority Mail, which typically ships in 2-3 business days.
* Overnight delivery is only available for orders confirmed by owner prior to purchasing. To confirm if overnight shipping is available, please contact savedbygraceco@gmail.com
Delivery delays can occasionally occur. This is out of Saved by Grace Co.'s control.
Update this section based on carriers you support.
Shipment to P.O. boxes or APO/FPO addresses
How to Hang:
There are many ways you can adhere your quote to the wall. Each letter is light in weight and can be hung easily. My favorite and most cost effective way to hang is Loctite Fun-Tak Mounting Putty. Tear off the appropriate amount (read directions on putty) of putty and place on the letters.
Details
This product is non-refundable due to the custom nature of the product. Letters are cut using mdf draft-board which may have natural imperfections out of our control.
Available to purchase only unfinished at this time.